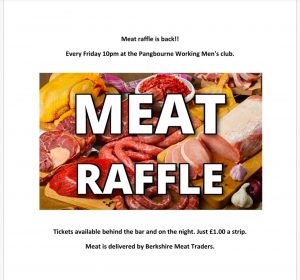 The meat raffle is back!
Every Friday 10pm. Just £1.00 a strip.
Purchase tickets behind the bar and on the night.
Meat supplied by Berkshire Meat traders.
Opening hours:     Monday – Thursday          11.00-23.00
Friday – Saturday       11.00-23.45       Sunday 12.00- 22.30
Our safety measures across all areas, including (but not limited to):
Customers in hospitality venues must wear face coverings upon entering the premises!! Except when seated at a table to eat or drink.
In licensed premises, food and drink must be ordered from, and served at a table.
To help make it easier to sign in on the NHS Test and Trace system we will be displaying a NHS Covid-19 QR Code to scan, you can download this from the App store or Google Play. We do still register our members that do not have access to the app service with good old-fashioned pen and paper.
Hand wash/sanitizing stations throughout our premises so you can maintain your own personal hand hygiene to protect everyone.
Gatherings indoors only permitted in a group of at most six people from any number of households or two families.
We have positioned tables to ensure safe spacing that will reflect PHE guidelines, and we are seating tables of up to six people maximum indoors at a safe 1m with risk mitigation where 2m is not viable.
 Certificate of AA COVID Confident Assessment Scheme
Enhanced and regular cleaning regimes with suitable alcohol sanitizer.
full risk assessments have been carried out for the club, including deliveries to protect both our teams and suppliers.
Children are welcome throughout the premises, however whilst inside the club we request that children remain seated and do not run around. Guardians are responsible for always supervising them and should follow social distancing guidelines.
Please note this announcement will be in place unless there are any changes by the government. 
Thank you for your continued support and help in keeping us all safe in these uncertain times, we look forward to welcoming our members back.
if you have any queries please send an email to: info@pangbourneclub.co.uk
The safety and well-being of our members and staff is our priority and we will take all necessary precautions to ensure their continued welfare. As with many businesses, we are actively monitoring the situation with regards the outbreak of Covid-19.
Help prevent the spread
We ask all our members to observe high standards of personal hygiene whilst visiting, there are simple things you can do to help prevent the spread of the virus, including:
Covering your mouth and nose with a tissue or your sleeve (not your hands) when you cough or sneeze
Putting used tissues in the bin immediately
Washing your hands with soap and hot water regularly, and using hand sanitizer gel
Trying to avoid close contact with people who are unwell
Avoiding touching your eyes, nose or mouth if your hands are not clean.
PWMC comprises a cross section of the whole of the community within the village and the surrounding area. It houses many activities and sub-clubs: snooker, crib, bingo and quiz nights and a fluctuating debating society that meets most weekday lunchtimes at the bar. Saturday tends to be sports orientated, with a large screen television and most sporting channels available.